'Talkin After Hours' – a free workshop & networking BBQ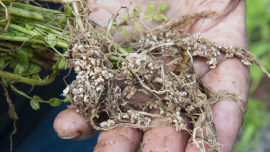 Presented by Floyd Sullivan from ALOSCA Technologies, this workshop will give you an insight and understanding of:
The mechanics of legume root nodule bacteria symbiosis
Function & inherent problems of Root Nodule Bacteria (RNB) in today's system
Limitations of inoculant delivery systems in modern Mediterranean/temperate farming systems
Pasture establishment technologies inclusive of top dressing old clover paddocks, summer sowing and twin sowing methods.
Herbicide residue impacts on nitrogen fixation.
Options to tackle poor sub-clover nitrogen fixation
How to generate organic nitrogen from current legumes.
Networking BBQ
At the end of the presentation we'll relax & throw some snaggers on the barbie. It will be a great chance to keep talking about this key topic, network with Floyd & local landholders who have experiences to share.
Can't make it to the presentation? Don't worry, you are still very welcome to come along to this part of the event, we'd love to see you there!