Ms Lyn Farrell, Dean of the Edith Cowan University South West Campus,
invites you to an on-campus sundowner on Thursday 7th February.
The sundowner will showcase the achievements of the Bachelor of Health Science's first year of implementation on South West campus in 2018. It will also launch the latest offering on the campus, the Bachelor of Exercise and Sports Science. Health Science majors available on South West campus include Nutrition, Health Promotion and Occupational Safety and Health. The first year of the Exercise and Sports Science course will be available on campus from Semester 1, 2019.
The evening will include a presentation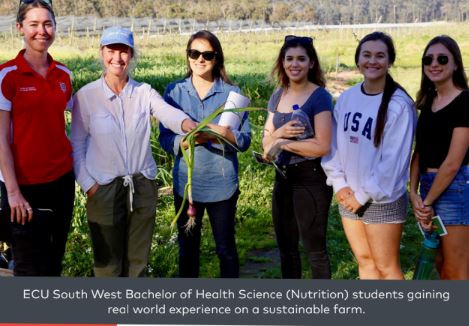 by Dr Stephanie Godrich, showcasing research results from projects conducted in the region throughout 2018, including the South West Food Community and the Regionally Grown Fresh Fruit and Vegetables studies. Fiona Iredale will launch the Exercise and Sports Science course, with innovative exercise and sports science research showcased. Associate Professor Sue Reed will discuss emerging Occupational Health issues in South Western WA, such as working with hemp and building modern kitchens.
Opportunities for further study, research collaboration and industry partnerships will also be discussed.